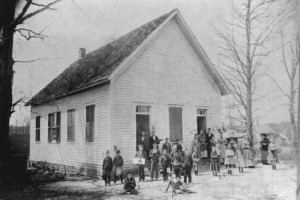 In 2010, Liberty celebrated 200 years of worship and service on the banks of the Olentangy River.
For most of its history, Liberty has been a small, quiet church situated in a stable farming community (being recognized twice as a "Rural Church of Distinction").
In 1810, eight members of the Thomas & Sarah Cellar extended family, plus Leonard Monroe, organized Liberty Presbyterian Church. For its first 26 years, Liberty shared a pastor and Session with the Presbyterian congregations in Delaware and Radnor.
In 1820, Thomas' sons George and John built the wood-frame meeting house that is still used as our chapel, situated beside the settlers' cemetery. (The Chapel is the oldest continuously-used worship building in Delaware County.)
Liberty became a stand-alone congregation in 1836.
Hebrews 12:1-2
"Therefore, since we are surrounded by so great a cloud of witnesses, … let us run with perseverance the race that is set before us, looking to Jesus the pioneer and perfecter of our faith."
By the late 1960s, the growth of Columbus' suburbs began to impact the church; the congregation continued to increase over the next three decades, culminating in the building of our Barn sanctuary (1995), which changed Liberty into a large regional church. In addition, the Carriage House was built in 2009, for children's and adult classes. Fearing Hall was fully renovated in 2020, in memory of Liberty member Doris Fearing. This stand-alone building hosts everyone from AA to youth and adult classes. Embracing, integrating and shaping our fast-changing community is Liberty's great opportunity over the next twenty-five years.
As we look forward to our third century, Liberty is committed to deepening our Christian discipleship particularly in the areas of mission, ministry with children & youth, and adult spiritual growth.